Spanish version...
English version home page...
15 May 2016.
1) Hello, Diana. Firstly, congratulations on your book! Could you tell me briefly what it is about?
Baby English is a book about how to raise a child in English when you are not a native speaker. In the book you´ll find the experience of a Spanish mum, myself, who has been speaking to her daughter only English since her daughter was a baby.

It is packed with useful tips, vocabulary and expressions (with audio) related to babies, children, funny anecdotes, resolving key questions about raising a bilingual child, resources to improve your English and how to increase English exposure for your child. What is really original about this book is that it is not another book about bilingualism as are many good publications you can find in the market, but a book about how to teach your child to speak a language which is not your native one.


The Dianas - author and child
2) So you took a decision to raise your child in English, which is not your native language, why?
I love languages, and the way they allow us to communicate. And in my personal experience they have given me the opportunity to meet inspiring people, to travel and work abroad. I think babies and children just repeat whatever you tell them, so I thought, why not try to give my daughter the chance to learn two languages in a natural, effortless way? Since I had the motivation I could find the tools I needed back then and the ones I could not find, I created them myself. This book is the result of that.
3) Having two languages in your home could create tension. I mean, how does your husband feel about all this, for example? Can you briefly talk about what the difficulties are and how you handle them?
At home we speak Spanish, Diana´s dad is Spanish too. With my daughter I always speak English and she speaks Spanish with the rest of the family. Sometimes when I want other people around to understand what Diana and I are talking about (because it is a family issue for example and it is important that everyone knows what is going on) I swap languages, and I speak Spanish. Flexibility is necessary sometimes. And we have observed that other family members can also benefit from listening to us, because they improve their English that way.
4) Many parents might like to follow your example. Can you describe what qualities they should have before embarking on such a project?
Sure, I mention them in the book: commitment, flexibility, motivation, trusting yourself, are some of them. You need to be open to new situations, and you should enjoy your bilingual journey. I don´t mean that it is easy, sometimes it just flows, but other times it's quite challenging, however it´s always worthwhile.
And we should not forget that the main thing is having good communication with your child and enjoying your time together. We are not English teachers of our kids, we are mums and dads. Parenting requires patience, a good sense of humor, commitment.
5) So now your child is six. Are you already seeing the benefits of using English in the home? How does your daughter's English differ from the English of children from monolingual families who are learning the language at nursery school, for example?
My daughter basically speaks English with me and Spanish with others. I guess that as she is bilingual, she sometimes uses Spanish words when she speaks English and the other way around, mainly because she feels more confortable with some English terms and some Spanish terms. No big deal, she can tell both languages apart, she knows who speaks what, and she is able to communicate in two languages, with lots of people. Of course, as we live in Spain, I guess her English vocabulary will be not as wide as her Spanish as I am now the only person who speaks English with her. Still, I can see everyday how she has been able to deal with both languages, how she can express emotions in English, how she can feel them in English. This non-native bilingual journey is just amazing.
The main difference I can appreciate between her and other children who are learning English at school and not at home is that English for her is not a subject but a language (in fact, this is what English and Spanish are - languages) Her speaking ability, vocabulary, listening skills are well integrated, she feels comfortable using both languages.
6) So now this book, "Baby English. Cómo conseguir que tu hijo sea bilingüe". What inspired you to write it?
I was living in the UK when I got pregnant. I used to attend some mum-to-be groups and play groups and I met some multilingual families. I started getting familiar with babies' English vocabulary and I was amazed to see that some little kids could communicate in more than one language with their parents.
I decided to speak English to my daughter. She was born in Spain. But even when I was still pregnant I used to sing lullabies to her and talked to her in English, just to get both of us used to the language.
When my daughter was a baby, I used to write a blog about maternity and bilingual education. I posted vocabulary and ideas and personal experiences in my non-native bilingual journey with her.
But my baby was so little, she needed me, and blogging can be a huge commitment, so I decided to quit and focus more on her, and on having some family and some me-time.
However, every day, I had these doubts about vocabulary. Am I doing the right thing? Is this going to work? And some years later, I started to write about all of that and the solutions I was coming across with. You know, I love reading, I love writing.
One day I told myself, why not write a book? This could be the kind of book I was looking for before starting this bilingual project.
Because out there in the market you can find some very good publications about bilingualism, but it was hard to find a book that actually helps couples who are not native speakers in one of the language they want to teach their children. And I needed to know how to say for instance, "Mete la camiseta por dentro"; that is "Tuck your T-shirt in", for example. Or "Te echo una carrera"; "I´ll race you", etc.
There are so many situations in a day with a child in different contexts and in the book you´ll find all these useful phrases, songs, games, both in English and Spanish and with audio to check the right pronunciation.
There is also a chapter about reading in English and how to help children to get used to English sounds.
7) What else can parents find in your book?
Apart from how to get ready and motivated, readers will find many useful expressions in both English and Spanish, games, and how and when to use them: classified by age and situations. Parents and teachers will definitely use many of those with their kids on a daily basis.
There is also an interesting chapter about common doubts, and problems you can find on your bilingual journey and how to solve them.
There are plenty of songs, games, rhymes, some tricks to improve your English if you are a Spanish speaker, and a chapter about bilingualism, advantages of being bilingual and more. And the book comes with audio, so if people are worried about their pronunciation, they'll be able to improve it.
8) I understand you presented your book on the 1st April in Avilés. How was it received?
There were some parents, teachers and English students. Some people asked some questions. I also presented the book in Gijón, and I will soon be at the Feria del Libro de Madrid, on the 5th of June. I am trying to get some visibility because I think this book is something that can help many parents, teachers and English lovers and I want to reach them.
9) So, what now? Your child is six and already speaking English. How long will English be part of your family life? Is there an end?
Languages are part of people´s life. I am still learning new expressions in both English and Spanish. I don´t see an end. Diana and I speak English, but sometimes we change into Spanish, or we even mix them, now that she knows they are different languages, and it is nice, too, being able to talk to her in Spanish. I talk about that in the book too because some people have asked me the same question.
10) So on a final note, Diana, if parents are interested in raising their children in other languages other than English, is it worth their while? I mean, are there other benefits of learning a language in the home rather than just the practical importance of the language for work and international communication?
I can speak French too, but not as good as English. I am not interested right now in introducing a third language to my child, but this is my choice. Maybe, other parents want to do it, so why not? Everybody has to think and feel what works better for them and their kids and then go for it.
Benefits about bilingualism that I can mention, there are some. I am not a scientist so I can not speak about the advantages of bilingualism in a scientific way but I have been recently reading more and more articles about the benefits of being a bilingual.
What I can say is the ease you find when travelling, living in another country if you are able to speak more than your native language. You have a better and deeper access to other cultures, other interesting ways of living, thinking.
It also offers you the chance to see reality from a different perspective, and I guess that can have a good impact in the way you interact with the world. It gives you an open approach, curiosity, a connection with your feelings in a wider way.
As I mentioned before, at the end of the day the main and most beautiful thing related to your children and yourself is to connect with them, to feel close and loved, through words, (languages), and actions.
Diana, thank you very much for your useful comments during this interview. Lots of luck with the book and the bilingual project.
Interview by Mike Bilbrough.
Baby English: Cómo conseguir que tu hijo sea bilingüe. Published by Vaughan.
www.facebook.com/babyenglishdianasampedro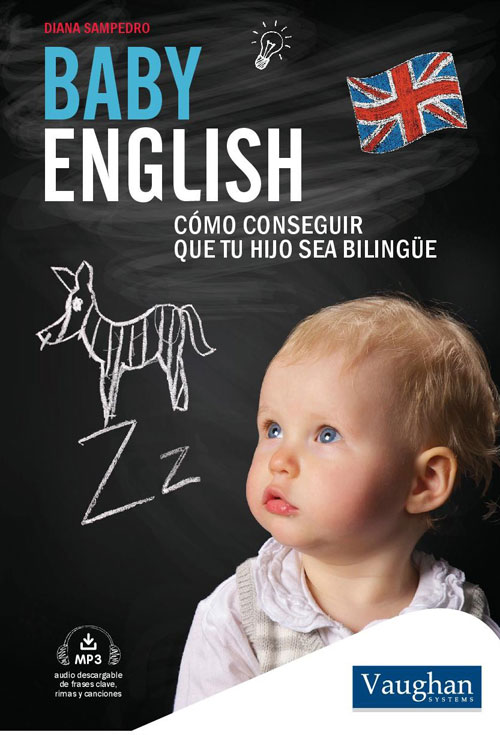 If you would like to comment on this interview or talk about your own experiences, you can at our bilingual child forum in English or Spanish...
Copyright © 2016 English Spanish Link
All rights reserved